Superior Oil Tank Grounding Texas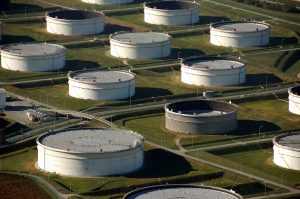 Having professional oil tank grounding & lightning protection for your commercial fossil fuel company is crucial to the longevity and safety of your business. Not only is it a must so that you're properly covered in the event of a natural disaster or electrical storm, but it protects your oil tanks and field year round.
Both the National Fire Protection Association (NFPA) and the Occupational Safety and Health Administration (OSHA) have bonding and oil grounding requirements. Texas oil companies are required to provide adequate oil tank grounding and lightning protection safeguards. Superior Lightning Protection Midland Texas are fully licensed surge protection and grounding contractors.
Superior Lightning Protection Texas provides oil tank grounding services to minimize the generation of static electricity when transferring flammable liquids. 
Proper lightning rod installation and surge protection on your oil storage fields and business is essential for all properties in Texas. Our Superior Lightning Rods Texas are designed to protect your business and commercial structure from damage due to lightning strikes. By intercepting the strikes that target your structure, our industrial grade Texas Lightning Rods and surge protection systems provide a low resistance path to the ground, further insulating your oil tanks.
Superior Lightning Protection is a family-owned and operated Texas oil tank grounding and lightning rod installation company that has been in the same hands since it was founded in 1979.
 Outfit your home or business with the best Texas lightning rod protection available. Our dedication and work ethic are only two of the reasons our Texas lightning rod company has been the go-to contractor for preventative weather related services. We offer cutting-edge designs to disguise traditional lightning rods. No more obtrusive eye-sores that take away from the aesthetic and exterior of your home or commercial property.
Strike first and get professional oil tank protection Texas. Give you and your family the peace of mind they deserve : 817-908-9330
We provide Texas lightning rod installation and grounding services for industrial buildings, farms, schools, residential and commercial properties. Because of our stellar customer service team and licensed lightning rod installation contractors, Superior Lightning has remained an industry leader for decades. We take pride in our work. Call us today for a free estimate. Strike before it's too late. Install lightning rods and grounding protection Texas on your business today.
The great state of Texas is one of the most active lightning and thunderstorm states in the country. Without proper residential lightning rod protection systems installed, your home is open to all sorts of complications at the hands of mother nature. Superior Lightning Protection has been outfitting homes with the latest surge protection technology. Our residential lightning rods Texas are of the highest quality and come in a wide variety of styles, finishes, materials and designs.
Texas Surge & Lightning Rod Protection Services
Protecting your business, as well as your investment and resources is of the utmost importance to us at Superior Lightning Protection Texas. Many businesses are lost to lightning each year and are irreplaceable. Texas is one the most devastating states for thunderstorms. At Superior Lightning Protection we design our surge protection systems and Texas lightning rods to be as inconspicuous as possible. In some cases our Texas lightning rods can even be crafted to be almost invisible, as well as weathervanes that act as surge protectors and electricity conductors as well.
 Superior Lightning Protection proudly serves all of Texas with the best lightning rod installation and surge protection services, including, Midland, Austin, Dallas, Arlington, Lewisville, Grapevine, Frisco, Irving, McKinney and surrounding areas. Lightning rods were first developed by Benjamin Franklin in 1749 and to this day are the only reliable protection from lightning strikes. They are in use on structures such as the Empire State building, NFL, MLB, NBA stadiums. The majority of government buildings, airports and thousands of homes across the country are outfitted with lightning rod protection systems.
Best Commercial Lightning Rods & Surge Protection Texas
Our dedication to superior products and services has kept us at the forefront of our industry. Lightning strikes to your dwelling can be devastating. Not only are our residential lightning rods effective, but we make them to be inconspicuous as well. Since 1979, our Texas Lightning Rod Company has been supplying our customers with the highest quality Residential Lightning Rods and Surge Protection Services Texas. We have the reputation, experience and recommendations to back our claims. Don't leave your home exposed to the elements and without adequate Texas lightning rod installation.